OnLine members
Currently: 4
Total hits!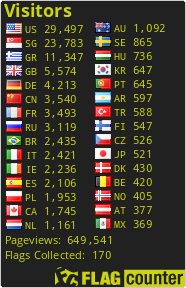 Play old-school now!
| | |
| --- | --- |
| | About this site |
Anyone who had the pleasure of growing up in the late 80's and early 90's will undoubtedly hold a place in their heart for the old video games that ruled this earth. It was all about having some fun and you didn't need an expensive console or home micro-computer to do so! The simple fact is that no matter how much technology seems to advance, retro gaming will always be interesting enough to spend a chunk of your time.
But back in those rough times there was no internet or any other means for someone to express his feelings, thoughts and impressions towards a game he really enjoyed. The RetroShowcase site is dedicated to some video games of the past we all played and loved. We make a basic reference for each and every game -on any video-game console or home computer that really impressed us. No reviews of numerous -and exhausting- pages here rather just some thoughts, screenshots, sounds etc. Here you can find more than 40 old-school systems, having a direct comparison among different formats, such as Atari ST vs Amiga or Amstrad CPC vs C64 (for the older ones who might still remember those debates) and many more. The 8bit and 16bit home-computers and video-game consoles, will always be on the basis of nostalgia for us really.
| | |
| --- | --- |
| | Featured articles |

The Amiga's graphics capabilities
Back in the 1986, many programs have been developed over the last few years for casual use on home computers. But the new 68000 Motorola CPU-based machines, such as the Atari ST and (especially) the Commodore Amiga, offered graphics capabilities previously seen only on mainframe computers. The little computers are starting to catch up with the big ones. The evolution of microcomputer graphics in 1986 has just began... -more-
The Amstrad CPC+ series graphics!
In 1990, Amstrad decided to refresh the CPC model range by introducing a new range labeled as PLUS or CPC+. The main goals were numerous significant hardware enhancements to the existing CPC range. Regardless, this new version of the CPC didn't last long. The 8bit technology behind the Plus was starting to look a little out of date by 1990. But still, it was an amazing range of 8bit computers offering some state-of-the-art technology to the 8bit genre. -more-
| | |
| --- | --- |
| | Featured games |
Music Player!
Play ZX on-line!!
Retro-games Trivia!
Old-school Crossword!
Is this my palette?
The logo evolution!
Exhibitions!
Beat them All!
Random Old Ads!
Boot Screens!